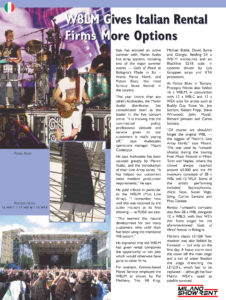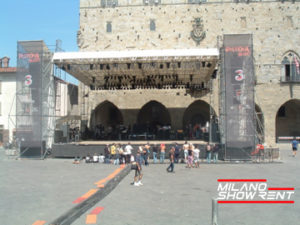 Italy has enjoyed an active summer with Martin Audio line array systems, including two of the major summer events — Gods of Metal at Bologna's Made in Bo – Arena Parco Nord, and Pistoia Blues, the most famous blues festival in the country. This year (more than any other) Audiosales, the Martin Audio distributor, has consolidated itself as the leader in the live concert arena. "It is showing that the commercial policy, professional attitude and service given to our customers is really paying off," says Audiosales operations manager, Mauro Codeluppi. He says Audiosales has been assisted greatly by Martin Audio, and the introduction of their Line Array series. "It has helped our customers meet modern production requirements," he says. He paid tribute in particular to the W8LM (Mini Line Array). "I remember how well this was received by the audio industry at its first showing — at PLASA last year. "This seemed the natural development for our many customers who until then had been using the traditional W8 system." He explained that the W8LM had given rental companies the opportunity to win jobs which would otherwise have gone to other firms. For example, Genova-based Planet Service employed the W8LM at shows by Pat Metheny Trio, BB King, Michael Bublé, David Byrne and Giorgia, fielding 24 x W8LM enclosures and six Blackline S218 subs in systems driven by Lab Gruppen amps and XTA processors. At Pistoia Blues in Tuscany, Procopio Nicola also fielded 16 x W8LM, in conjunction with 12 x W8LC and 12 x WSX subs for artists such as Buddy Guy, Steve Vai, Joe Satriani, Robert Fripp, Steve Winwood, John Mayall, Richard Johnson and Carlos Santana. "Of course we shouldn't forget the original W8L — the biggest of Martin's Line Array family," says Mauro. This was used by Fumasoli (Aosta) during the touring Free Music Festival in Milan, Turin and Naples, where the crowd always reached around 60.000 and the PA inventory consisted of 28 x W8L and 12 WLX. Some of the artists performing included Stereophonics, Alicia Keys, Susan Vega, Sting, Carlos Santana and Pino Daniele. Renato Fumasoli's company also flew 28 x W8L alongside 12 x W8LS, with four W3's (for front stage) for the aforementioned Gods of Metal festival in Bologna. Martin's classic LE12JB floor monitor was also fielded by Fumasoli — but only on the first day. A heavy storm tore the cover off the main stage and a ton of water flooded the stage drenching the LE12JB's, which had to be replaced — although the four Martin WSX's used as sidefills survived.
https://www.milanoshowrent.it/wp-content/uploads/2016/12/logo_milano_show_rent.png
0
0
Amaury Froiio
https://www.milanoshowrent.it/wp-content/uploads/2016/12/logo_milano_show_rent.png
Amaury Froiio
2017-02-19 15:07:10
2017-02-19 15:07:53
Martin Audio W8LC for Pistoia Blues 2004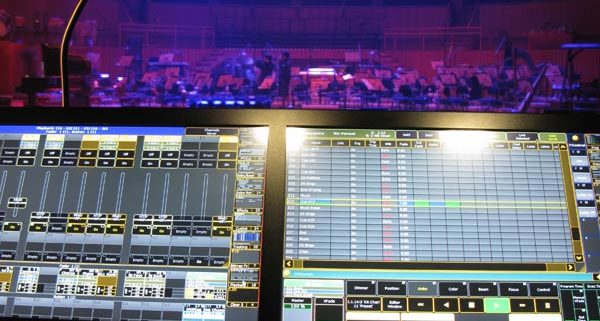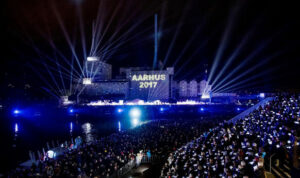 With one of the largest community participation events ever held in Denmark, Aarhus recently celebrated its inauguration as one of the two European Capitals of Culture 2017. The European Capital of Culture is a city designated by the European Union for a period of one calendar year during which it organises a series of cultural events with a strong European dimension.
The opening ceremony was created by artistic director, Nigel Jamieson, one of the world's leading creators of theatre and large-scale events. Working with Berlin-based creative production company battleROYAL, lighting designer and programmer Chris Moylan was asked to create a lighting design representative of this landmark event. Using 2 x grandMA2 full-size, 2 x grandMA2 light, 6 x MA NPU (Network Processing Unit) and 1 x MA onPC command wing as back-up Moylan controlled a show with more than 600 fixtures.
Aarhus opened their ceremony with a poetic and traditional lantern parade stretching from one side of the city to the other. Along the way many architectural wonders of Aarhus were lit and used as beacons to provide a design that encompassed the entire city.
Moylan commented: "We are passionate grandMA2 users and were able to use some advanced workflow techniques to easily program and prepare everything beforehand, saving us precious hours on the ground."
"We used three different control stations for this project", explained Moylan. "Two spread across the city and one 3D programming station. The MA NPU were distributed in areas were groups of lights were clustered. Thanks to the robust import and export system of the grandMA2 we were able to easily jump on the 3D station during the day and quickly correct or update our sequences and presets during the night."
"This project was very special because everyone was so unbelievably positive", continued Moylan. "There were so many happy volunteers, eager to help out and show Aarhus in the best light possible. The technical team was incredibly supportive and you could tell everyone was very proud to show the world what Aarhus can do!"
"The Queen of Denmark opened the ceremony by raising a ship shaped lantern and signalling the parade to start moving. She originally planned to leave shortly afterwards, but ended up staying much longer to watch and marvel at the intricate lantern boats and massive parade."
Matthias Schöffmann worked as additional programmer. Nordic Rentals A/S provided the lighting equipment. Gobo & Highlight A/S is the exclusive distributor of MA Lighting in Denmark.
Used equipment:
2 x grandMA2 full-size
2 x grandMA2 light
6 x MA NPU (Network Processing Unit)
1 x MA onPC command wing
https://www.milanoshowrent.it/wp-content/uploads/2017/02/LUCI.jpg
800
600
Amaury Froiio
https://www.milanoshowrent.it/wp-content/uploads/2016/12/logo_milano_show_rent.png
Amaury Froiio
2017-02-12 15:12:32
2017-02-12 15:15:00
Aarhus celebrates its European Capital of Culture 2017 with MA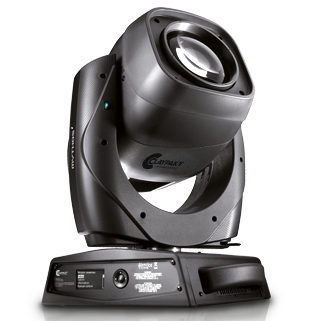 Mythos 2 features a new and reliable Osram Sirius HRI 440W lamp, which ensures the extraordinary performances that have made the success of MYTHOS worldwide. Mythos 2 is an excellent spotlight, which produces an outstanding large light beam, featuring a zoom that ranges from 4° to 50° (1:12 ratio).Light beam is sharp, with perfectly defined edges, from the first millimetres after the front lens right along its entire length. The zoom is optimized for focusing, which is separate from that of the fixed and rotating gobos. Its movements are smooth, fast and very quiet. Mythos 2 also features an indexed visual effect disc, which may be superimposed on all the gobos, both in and out of focus. But Mythos 2 is also an extraordinary beam light, allowing you to switch to a minimum fixed beam angle of just 2.5°. A large, very dense, 160 mm-diameter light beam leaves the Mythos's front lens and remains parallel for its entire length even at great distances. Mythos 2 is a very versatile tool, which is useful in any situation and therefore an excellent investment.
https://www.milanoshowrent.it/wp-content/uploads/2017/01/C61396.jpg
400
320
Marco
https://www.milanoshowrent.it/wp-content/uploads/2016/12/logo_milano_show_rent.png
Marco
2017-01-24 10:55:27
2017-01-24 11:03:49
Mythos 2